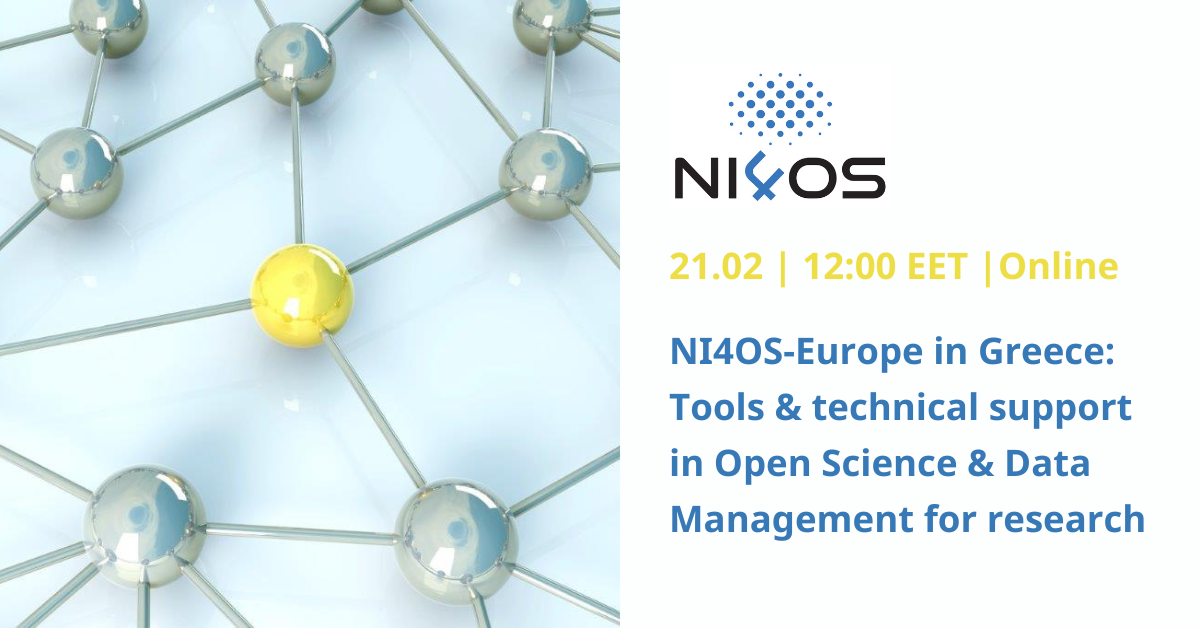 In this webinar, emphasis is given on the tools that have been developed in the context of the NI4OS-Europe project, and the services that are available in the Greek research area to support specific actions with respect to EOSC onboarding.
 
The event is split into two parts, in the first one we present tools developed by NI4OS-Europe partners supporting various aspects of the Open Research Data Management lifecycle, while in the second one we present services the project is offering for supporting the process of onboarding resources to EOSC.
 
The event will take place online. You may register
here.
Agenda
 
12:00 – 12:05

Welcome and introduction to the workshop, Eleni Toli, "Athena" RC

Part A – ORDM Tools for policies and licensing

12:05 – 12:20

RePOL A tool for repository policies and privacy policies for online services, Branko Marović, University of Belgrade

 

12:20 – 12:35

RoLECT: a self-assessment tool against EOSC RoP Legal & Ethics Compliance, Eleni Toli, "Athena" RC

12:35 – 12:50

LCT: An easy and automated approach in license clearance, Panagiota Koltsida, "Athena" RC

 

Part B – Services for EOSC onboarding

12:50 – 13:05

Validating and Enriching Repository Metadata, Elli Papadopoulou, "Athena" RC

13:05 – 13:20

Introduction to EOSC Accounting for Services - Fotios Basios, GRNET

13:20 – 13:35

NI4OS AAI new capabilites / solutions to assist service integration with EOSC - Andreas Kozadinos, GRNET

13:35 – 13:50

NI4OS Monitoring and new capabilities to assist service onboarding to EOSC - Chrysa Thermolia, GRNET

13:50 – 14:00

Q&A, closing of the workshop