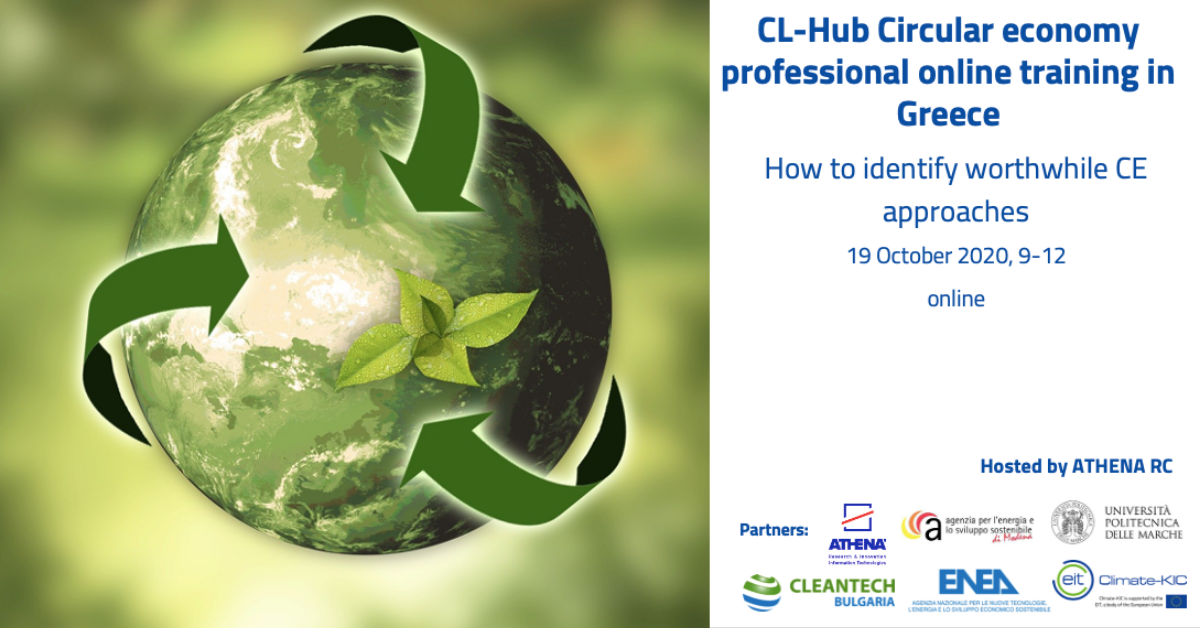 The CL-HUB project invites you to a series of training seminars on the circular economy for businesses and investors. In these three seminars, which will last from 2 to 3 hours each, participants will learn how to use worthwhile circular economy approaches for the success of your business or investment activities. These seminars are provided free of charge under the CL Hub project, which is funded by Climate-KIC, and will take place on:
19/10/2020, 9am - 12pm
26/10/2020 9am - 12pm
02/11/2020 9am - 11am
To express your interest, please fill in this form. Also, before the launch of the seminars, you can fill in this questionnaire, which takes about 10 minutes. Feel free to contact Lydia Papadaki (lydia.papadaki@athenarc.gr) for any question, you may have. Find the agenda here.
CL-Hub project works on an awareness-intention-action path fostering problem-owners in the ecosystem to a deeper understanding of circular thinking. On the basis of a debiasing experiment, the co-creation of innovative learning and nudging initiatives on circular thinking and investing are carried out in 2020.
The pan-European extension of this project (Italy, Greece and Bulgaria) allows the effective co-creation of scaled nudging and learning solutions based on the experiences of the different geographical contexts involved. The project is led by Universita Politecnica Delle Marche (Italy) and supported by Agenzia Nazionale per le Nuove Tecnologie (Italy), Energia e lo Sviluppo Economico Sostenibile (Italy), Modena Energy and Sustainable Development Agency, Cleantech Bulgaria (Bulgaria) and ATHENA RC (Greece).