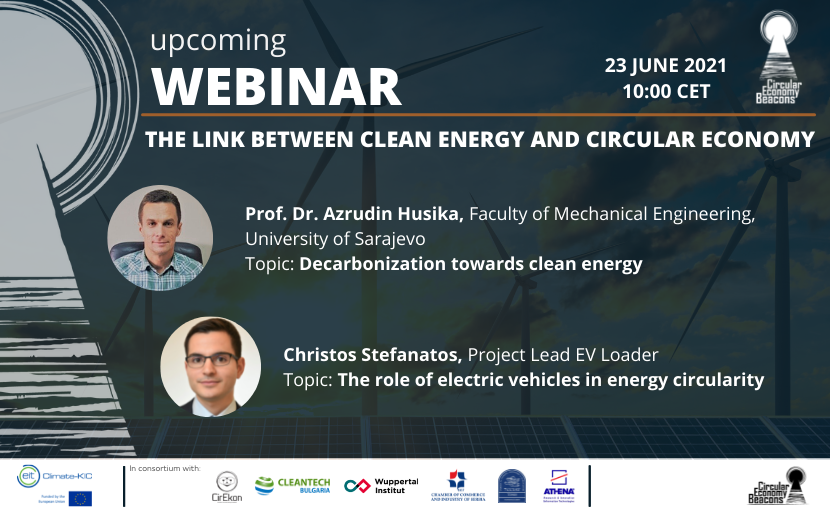 We invite you to participate in the Webinar entitled " The link between clean energy and circular economy", which will be held in digital format on June 23, 2021, 10.00 CET.
Participation in the event is free. Registration will be through the link below and it's based on the confirmation mail you will receive after registering online. The deadline for registration is June 23.
Main topics
Decarbonization towards clean energy
Decarbonization is one of the fundamental processes on the path to climate change mitigation, and it implies the transition from the use of fossil energy sources to renewable sources.
The decarbonization process is planned for several decades because it includes a radical turn in the entire economy, especially in the energy sector. The key element of the arch is the decentralization of the energy system, which enables the change of ownership over its components, from the large companies to the local communities, i.e., citizens. As a result, citizens will become so-called prosumers, i.e., active participants in the energy system. In that way, economic development will get a completely new impulse.
The role of electric vehicles in energy circularity
This topic tackles the role of electric vehicles as flexible assets for energy grids. Wise timing of electric vehicle charging can decrease dependency on fossil fuels and prevent curtailments of clean energy. It will also discuss the essential role of EV charging station management applications in incentivizing smart charging.
Agenda:
Time/Activity
10:00-10:10 CET – Welcome and introduction
10:10-10:30 CET – Decarbonization towards clean energy
Speaker: Azrudin Husika, Faculty of Mechanical Engineering, University of Sarajevo
10:30-10:50 CET – The role of electric vehicles in energy circularity
Speaker: Christos Stefanatos, Project Lead EV Loader
10:50-11:20 CET – Questions & Answers
CE BEACONS Project is supported by EIT Climate-KIC and aims to prepare companies for coming systemic CE implementation.