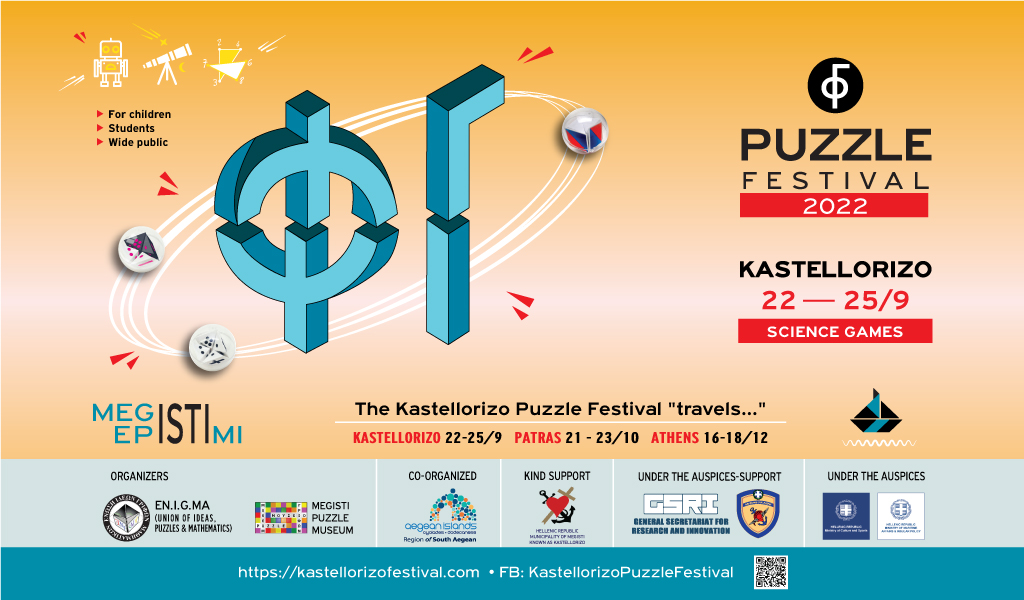 Athena RC /
Institute for Language and Speech Processing
will participate for one more time in the
Kastellorizo Puzzle Festival
, by solving the Riddle of a Mysterious Connection between Music and Science. The festival will take place
22-25 September 2022
in Kastellorizo, Greece, and its main goal is that scientific knowledge can reach everyone – young and old – in a simple, accessible, interactive and enjoyable way.
There will be no speeches of academic style, but simple discussions, scientific events in the form of a game or theatrical narrative, impressive experiments, STEM, tours, treasure hunt, Stand up Science for children, exhibitions, film / music workshops and especially countless puzzles that will persistently ask for their solution.
"Athena" RC's action "
Science and Music: Learning by Solving the Riddle of a Mysterious Connection"
 is a combination of presentation and interactive exhibition and is aimed at middle school and high school students. During the action, participants will have the opportunity to discover the "
ΕπιSTEAMουσική" project
, the
iMuSciCA platform
and the goals of STEAM education and the (digital, mainly) tools that facilitate this educational approach regarding music. Then, they will participate in the following interactive activities:  
Playing with the frequencies with our fingers.

Making and playing air guitar.

Analyzing the sound of a string.

How can the computer understand what I play on the guitar?
The organization is carried out by EN.I.G.MA (Union of Ideas, Puzzles and Mathematics), where the most important element of its action is the Megisti Puzzle Museum, in collaboration with the Region of The South Aegean and the Municipality of Megisti. The Ministries of Development/General Secretariat for Research & Innovation, National Defence, Culture & Sports, Shipping & Island Policy placed it under their auspices.