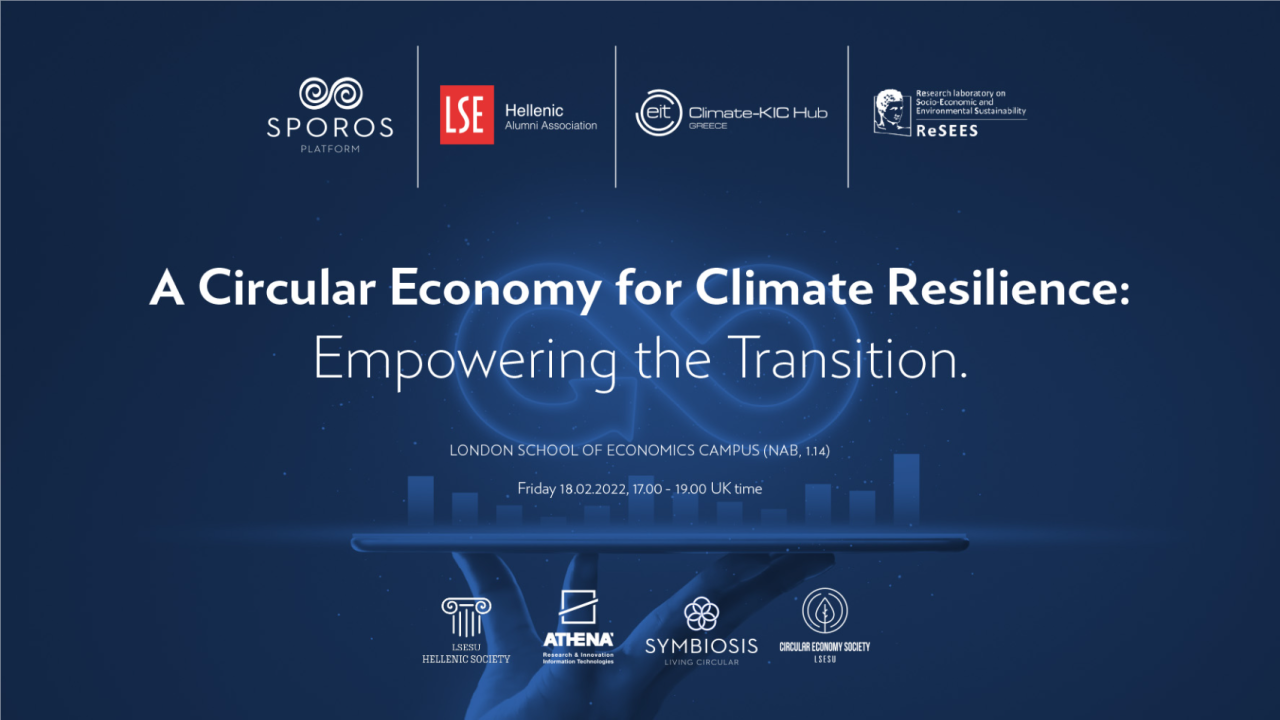 The Green Transition is all around us. The Circular Economy is a resilient system that regenerates the environment, creates new jobs and ultimately decouples economic growth from the depletion of finite resources, tackling climate change and biodiversity loss, while fostering SMEs growth and innovation. Key stakeholders are exploring how to accelerate the Circular Transition and enable climate resilience in the most efficient way, addressing major policy developments, spreading business best practices and empowering climate-financing tools and impact investment strategies, with a special focus on Greece & Southeast Europe. Join the debate!
Place: The London School of Economics and Political Science (LSE), New Academic Building, Room 1.14 and online
Organising Committee:
Sporos Platform, Hellenic Alumni Association of LSE, EIT Climate KIC Greece Hub, Research laboratory on Socio-Economic and Environmental Sustainability – AUEB
Co – Organisers: Hellenic LSESU Society, ATHENA Research Centre, LSESU Circular Economy Society, Symbiosis.
The Event will be livestreamed on Youtube
18.00 CET: Welcome
Welcome Address by Alexandros Karydis-Karandreas, Lawyer, on behalf of the Organising Committee
Welcome Address by Katerina Pournaropoulou, Communication, Sustainability & Excellence Advisor, Member of BoD HAALSE
Welcome Address by Dimitra Stratopoulou, President of the LSESU Hellenic Society
18.15 – 19.40 CET: Panel Discussion
Moderator: Gerasimos Routzounis, Partner & Chief Investment Officer, Sporos Platform
Danae Kyriakopoulou, Senior Policy Fellow at the Grantham Research Institute on Climate Change and the Environment, London School of Economics
Athanasios Polychronopoulos, Founder & CEO, Polygreen
Prof. Phoebe Koundouri, President of the  European Association of Environmental and Resource Economists (EAERE) , co-Chair of SDSN Europe & Greece, Director of EIT Climate KIC Greece Hub
Thanasis Bakos, Senior Manager, Policy & Strategy at British Business Bank.
Andrei Geica, President of the Athens Circular Forum
19.40 – 20.00: Q&A
20.00 CET: Closing Remarks